Blackrock Cottage

Location: Blackrock Cottage, lies at the foot of Meall a' Bhuiridh at the entrance to Glen Coe, post code PH49 4HZ. OS map 41, GR NN268530.

Note: Blackrock Cottage is a private hut - it is not available to West Highland Way walkers and individuals seeking overnight accommodation.
Situation: Access is off the A82 on the same access road as the Glencoe Mountain Resort which is clearly signposted. There is parking space for around 7 cars outside the cottage plus more space across the road. Please do not park in the laybys. The Glasgow - Fort William bus stops on request at the junction of the A82 and the resort access road.
Accommodation: The cottage has two floors. Sleeping accommodation is in two upstairs bedrooms (accessed by a steep stairway) each with four single beds, and in one downstairs room with two bunk beds, giving a total of ten beds. Mattresses are provided but please bring your own sleeping bag, sheet, pillow, pillow case, towels and tea towels. 
On the ground floor there is a fully equipped but basic kitchen (see Facilities below).
There is a separate sitting / dining room.
The re-vamped shower block (see Publications for Coal-shed poem) houses a toilet, wash hand basins, heaters, shower and a drying room. Heaters and shower are on a £1/£2 coin meter. 
No camping is allowed.
Facilities: Electric lighting, cooking appliances including electric cooker with oven & grill, microwave, toaster and kettles, all kitchen utensils, crockery and cutlery; fridge (in summer).
Drinking water from the private water supply is available from the shower block taps.  There is no running water in the kitchen.
There is an open fire in the sitting room and and a solid fuel stove in the kitchen. There is a good supply of ovoids in the bunker outside at the back and kindling in the bins inside in the shower block.  Please do not burn household coal in the solid fuel stove in the kitchen.
Fees (from December 2022): £15 per person per night for guests. £12 for members of clubs with reciprocal rights. £6 for LSCC members. A booking deposit is required. Please contact the Blackrock Bookings & Finance Secretary Sue Vaughan.
The Members' Bothy: only available to LSCC MEMBERS. Must be booked by a LSCC member one day ahead with the Booking Secretary & Finance Secretary Sue Vaughan. The Bothy is available on a first come, first served basis. One guest is allowed per member - fees are £5 members, £8 guests (SMC free). Please put completed payment & slip in the box, or pay by bank transfer to the LSCC BLACKROCK account (and remember to notify the Booking Secretary & Finance Secretary). Bunk style - sleeps four (two up/two down) with self contained cooking area and sharing the toilet and shower with the main cottage. Since 2022, £1/£2 coins are needed for the electricity meter.
Hut Availability: These are shown on the calendar below.  Please note that the days marked as booked refer to the nights for which the cottage is booking. 
Blackrock fees 2023 
High season weekend*

Charges are the same, irrespective of who is booking:

 

£150 per night less:
  - £9 per night each LSCC member
  - £3 per night each reciprocal
  - £15 per night each SMC member

All other days in the year**

LSCC member                          

£6 per night

Reciprocal

£12 per night

Other

£15 per night

SMC

Free

Campervans (no tents permitted)

Pay same as if staying in hut

Children*** ages 8 to 13

£5 per night
*High season (1 Oct thru 31 May) weekends of Fri & Sat nights are exclusive use only
** Shared use available during all other days of the year, with prior agreement of all parties will only be asked to pay per person per night, not for the whole hut.
***Children under 8 not permitted at Blackrock
****Parties bringing children ages 8 - 13 will be given exclusive use on a per person per night basis
When Blackrock bednight charges are due:
| | |
| --- | --- |
| Deposit | Payment of balance |
| £25 per night to secure booking; non-refundable | In advance 6 weeks before stay – keys sent out only after full payment is received |
BR Bothy charges:
| | |
| --- | --- |
| LSCC member | £5 |
| Guests (SMC free) | £8 |
September view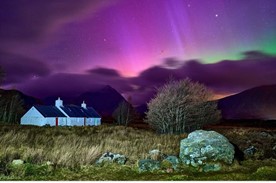 Centenary 2008
Buachaille Etive Mor
members in 'period dress'
Please do get in touch if you would like to know more about LSCC, how to join or to enquire about or make a hut booking.
See 'What we do' for some extracts from recent Meets.