Our long and proud history
Enjoy!
The Founding of the Club     
The founders

                       


Gyalgen Peak


Ladies Scottish Climbing Club was founded in 1908, by three women, at a boulder near the Lix Toll in Perthshire: Jane Inglis Clarke (mother of Charles to whose memory the CIC hut on Ben Nevis is dedicated) her daughter Mabel Jefffey, and Lucy Smith. All three had climbed extensively in Scotland and the Alps, though, typically, in the company of their respective male family members and friends. Having said that, they were experienced Alpinists in their own right. (See Centenary Gathering at Lix Boulder & poem to the Ladies).
Club activities - the early years
The founding of an all-women's mountaineering club in Scotland, just a year after the Ladies Alpine Club in London, soon had the interest of like-minded 'ladies' with a keen interest in mountaineering, and who were to become pioneers in their day in many ways. The first New Year's meet was held in 1908-09 and a programme of regular meets developed much then, as now, with the Club visiting all the main climbing areas in Scotland such as Crianlarich, Glencoe and Skye.
The twentieth century – a few firsts
The pioneering spirit, which was there from the start of the Club, has been particularly illustrated in some of its members.
Club member Esmé Speakman made several first ascents of rock climbs in Glencoe, including January Jigsaw in 1940, a classic Severe on the Rannoch Wall of Buachaille Etive Mor.
Betty Stark, Cynthia Marr, Evelyn Camrass and Elma Wrench organised one of the first mountaineering expeditions to the Lyngen Peninsula in arctic Norway in 1954.
In 1955, Monica Jackson, Betty Stark and Evelyn Camrass formed the first all women's expedition to the Himalayas. They explored the previously unmapped Phurbal Chyachumbu glacier and made a first ascent of a 22,000 ft peak on the frontier of Nepal and Tibet, naming it Gyalgen Peak, after their lead Sherpa (photo).
In 1970 Helen Steven led an expedition to the previously unexplored Alpefjord region of Greenland. Several first ascents were made, as well as the first all women's ascents of the Berseker Spire and Ardvreck.
Another Greenland Meet took place in 1998, when a group explored the Ice-Cap.
Read more - The millennium, centenary and 21st century
Slioch scrambling 1923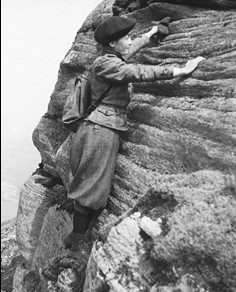 Meall a' Bhuiridh  1921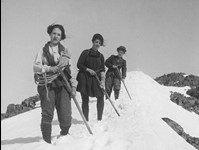 What is your top tip for a new member of the club?
Come along on lots of meets and get to know members. There is so much history in the club and lots of really interesting people with great stories to tell. I've found everyone in the club really welcoming, so hopefully you will too.

Elsie Riley