Various Publications
The history of the Club is told by Helen Steven in 'Rising to the Challenge – a 100 years of the Ladies Scottish Climbing Club' published by the Scottish Mountain Trust in 2010. It is not only a chronicle of the Club's history but of women and their achievements in the context of mountaineering and a society where the role of women has changed over 100 years. (See opposite or below for mobile screens.) 


The story of the 1955 Himalayan expedition is told in 'Tents in the Clouds' by Monica Jackson, republished in 2000 by Seal Press (US). It is an amusing and inspirational account of three women who parted from jobs and family to 'subject themselves to extreme discomfort on some lonely, alien and desolate wrinkles on the earth's surface'.


Club 'Publications' and Articles
LSCC Journals  
From time to time the Club publishes a Journal. The latest Journal was out in November 2018.
(Past Journals are with the Archivist and digitally available for Members.)

Alpine Journals
Members wrote reports of various Alpine Meets which were bound by a Club Member.  There are some copies in Blackrock and Milehouse. Other are available for Members digitally here.
Many of these are in electronic format and with our Archivist. 


Poems to celebrate 'events':
Centenary  Gathering at Lix Toll Boulder & Poem May 2008
Blackrock - Coal Shed Poem
Ronnan -    Inauguration Poem
Blackrock - 75th Anniversary & Poem May 2022
The poems in these articles are copyright to the author, Pat Brown.  Hence for any reproduction please Contact us.

Kathy Murgatroyd:  Continuous round of Munros
LSCC member & first woman to do a continuous round of Munros in 1982. 


Ring of stones at Milehouse
The stones were gathered at LSCC 75th anniversary
Article by Linda  our 2021 Hut Custodian


 LSCC songbook 
A collection of Songs - (currently Members only)
Collated by Eve Gilmore, Jan 2017.
Rising to the Challenge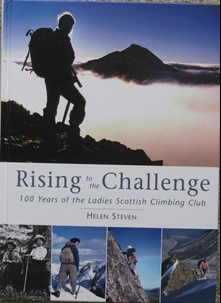 Brocken spectra on Streap