The Millennium                 
In 2000 the Club had an expedition to Ladakh and members climbed Stok Kangri, "over 20,000 ft in the year 2000" to quote our then President.  Four separate groups had first undertaken acclimatisation treks, reaching at least 5000 m, before joining together for the peak. (Photos show members on the summit.)
During the late 20th and early 21st century LSCC summer Alpine meets were enjoyed.
Our Huts Blackrock and Milehouse have copies of some Alpine Journals
The Centenary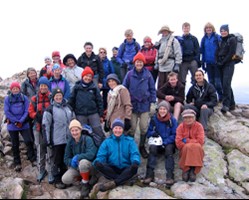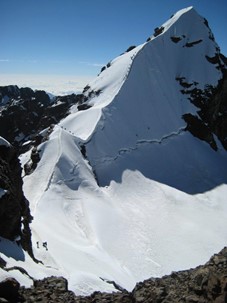 In 2008, the Club celebrated its Centenary with a programme of events taking place over the year, including: Members meeting at the Lix boulder; a mass ascent of Buachaille Etive Mor by a variety of climbing and scrambling routes - many members dressed in period costume (photo above); a meet in Bolivia, based at the Condoriri base camp, where Pequena Alpamayo was climbed (photo above); and a three week stravaig across Scotland. 
In 2010 Kate Ross became the first British woman to climb all the 4000 m mountains in the Alps.
She had previously climbed Ama Dablam (6812 m), a serious climbing peak in Nepal.
A random sample of recent activities - members have:
completed the Skye ridge, the most recent having never seen it before, due to cloud on previous visits
put up new routes on Gecko crag in Ardnish (submitted to SMC database)
backpacked from Fort William to Cape Wrath, in remote areas 
completed the GR5 from Geneva to the Mediterranean, with tent and kit
negotiated the rocky ridges on the GR20 in Corsica
had success in Climbing competitions and sports climbing, see photo below
ice climbing in Norway and elsewhere
covered the 58 Cairngorm Munros + 2 Corbetts in 17 days for her 60th Birthday
via ferrata in the Alps
ski toured in Trollaskagi north Iceland
sea kayaking round islands north and south of Upernavikoff, Greenland
and so the activities continue with varied mountaineering, summer & winter climbing adventures .... 
Then and now:
Glen Doll in 1952 and in Kalymnos on DNA 7a+ in 2015.
Her latest climb was an 8a on Ching at Dunkeld Upper Cave Crag.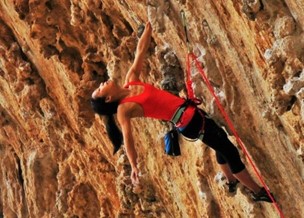 One hundred years on and still climbing ...
 Alpine sunrise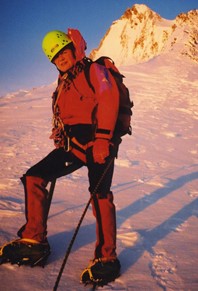 Why do you like being in the LSCC?

The philosophy of making us individually competent on the hill is so important. Self-care and as much self-reliance as possible is the key, even if you are with a guide.

Elaine Gillies
Ama Dablam, Nepal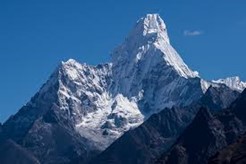 alpine via ferrata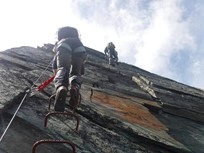 Please do get in touch if you would like to know more about LSCC, how to join or to enquire about or make a hut booking.
See 'What we do' for some extracts from recent Meets.